The energy transition is a rapid evolution fuelled by a collective commitment to a sustainable future. Technology is a crucial enabler. From biofuels to hydrogen and carbon capture, utilisation and storage, innovation is the key that will unlock a lower-carbon world.
The second annual edition of our New Technology Series draws on insight from our Energy Transition Service to assess and score nearly 200 separate technologies under development. We track their evolution and impact by exploring six key areas:
Maturity: what is the maturity of the solution right now, based on the most advanced technology in the family?
Pace of change: how fast is it moving towards maturity – and how much private investment is it attracting?
Carbon abatement cost: what is the carbon cost required for it to be competitive and displace entrenched technologies?
Carbon offset share potential: how large a volume, in market share terms, could this technology displace by 2050?
Policy support: are there sufficiently strong government initiatives to underpin investment and growth?
Dependency: could this technology unlock the adoption of other technologies or developments?
The technologies in our selection are assessed by experts from across our global teams, drawing on unique insight into aviation, bioenergy, CCUS, energy storage, generation, grid edge, hydrocarbons, hydrogen, maritime, metals, nature-based solutions, plastics, road transport and steel. Each is given an aggregated score.
So, which technologies stood out from the crowd this year? Read on for a few highlights – the full report is available on our store.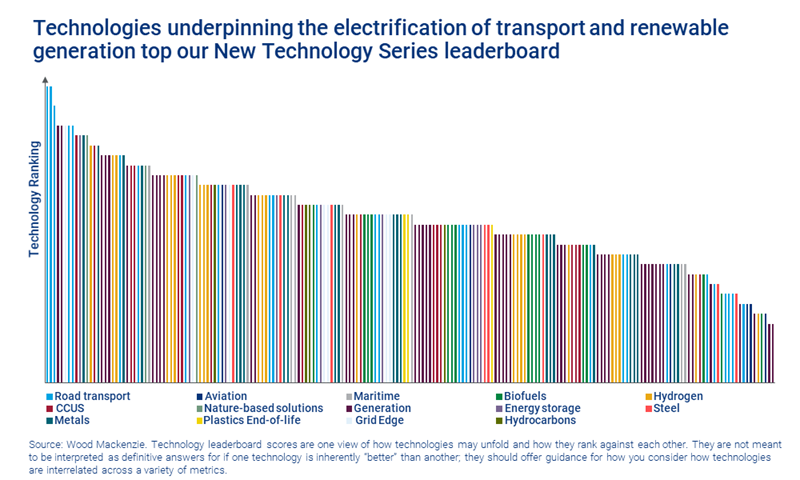 Electrification wins out in the road transport category
Passenger electric vehicles (EVs) have moved firmly into the mainstream – two million were sold in Q1 2022 alone. Every major automaker is transitioning to electric. Growth in sales show no sign of slowing, despite much-discussed battery cost increases.
Next-generation EV batteries will tackle charging speed, cost and range obstacles. Solid electrolytes and silicon anodes will enable a step-up in performance by 2030, though lightweight, high-capacity lithium-air remains something of an industry pipedream for now.
On the commercial side, progress has been a little slower, constrained by a lack of model availability and wider-scale suitability. Panel/delivery vans are leading the charge in electrifying road freight, but while some traditional truck manufacturers, including Volvo and BYD, have put day-use heavy trucks on the market, some newer entrants have struggled to launch.
Find out more: Read Can the US make the switch to electric heavy-duty trucks?, or our guide to electric vehicles.
Wind and solar continue to dominate the renewables landscape
It's no surprise that wind and solar lead the generation and energy storage category. However, the race is still very much on to deliver the most competitive, low carbon, dispatchable and flexible generation to enable full decarbonisation of power.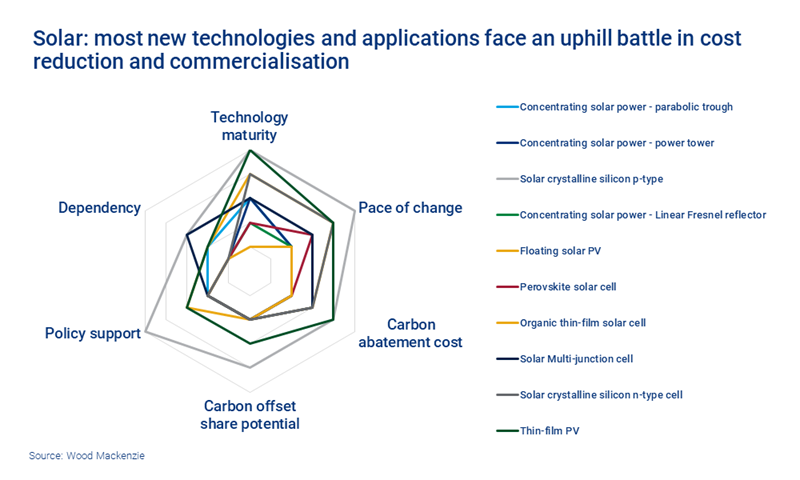 In the case of solar, the incumbent technology – ground mounted with silicon-based modules – has reached such a scale that newcomers are left fighting for niche applications. New solar cell technologies have higher cell efficiencies, but their higher costs will prevent them from displacing the incumbent in the near term.
We are seeing new applications successfully targeting niche markets, however. For example, floating solar (FPV) has been making waves for some time, particularly in the Asia-Pacific region.
Nuclear: small modular reactors are not the only concepts being explored
Nuclear has an undeniable image problem. But the energy transition cannot be built on solar and wind alone. Variable renewables will need to be supported by firm power, and nuclear could be an important part of the mix.
Small modular reactors (SMRs), distributed around the grid, will be increasingly valuable to power system operators as the share of variable renewable electricity increases. Their compact design means capacity can be more closely matched to an offtaker's requirements than with a large reactor. The smaller scale also makes them affordable to more utilities/IPPs, despite a relatively high cost per kW compared to most renewable power technologies. And design simplification and standardisation, as well as economies of scale, can be realised through modular production.
SMRs aren't the only technology to watch in the nuclear space. Large-scale generation IV reactors are being designed with enhanced safety measures and minimal waste in mind – two of the key issues with earlier models.