The global energy storage market is set to reach the precipice of the 500GW milestone by 2031 – with the US and China representing 75% of global demand in a highly consolidated market.
So, what's boosting deployment this quarter? Which markets are seeing the fastest growth? What are the challenges? And where have we seen downgrades to the regional forecast this quarter? The latest outlook update from our Energy Storage Service tracks all the forces shaping the market. Visit the store to access it in full, or read on for an introduction.
The US remains an energy storage market leader – but disruption from trade actions has sparked a demand downgrade
The US is set to be a 27 GW annual market by 2031; 83% of that volume is grid-scale.
However, our latest US outlook shows 2022 and 2023 demand downgrades of 34% and 27%, respectively. These downgrades have come as a result of disruptions within the grid-scale and distributed segments from an antidumping and countervailing duties (AD/CVD) tariff suit in Q2. The US solar + storage market was hit hard by the AD/CVD tariff petition, with approximately 35% of 2022 hybrid grid-scale installations delayed.
An Executive Order (EO) issued on 6 June did bring some relief. The EO announced a two-year delay of new duties on solar cells and modules imported from the countries named in the investigation – Cambodia, Malaysia, Thailand and Vietnam. Most projects are now expected to be delayed, rather than cancelled, and a near-term rebound is possible.
The REPowerEU plan provides a major boost to Europe's energy storage market
Project economics are also a challenge in Europe. While the energy storage market is set to increase fivefold to 2031, mid-term growth could stall if policies fail to improve the economics.
However, Europe is set to get a 12 GWh boost from the European Commission's REPowerEU plan, released in May 2022. While the plan does not set a target for energy storage, higher renewable supply targets will drive demand for flexible power solutions, including energy storage assets. In addition, the plan promises to ease permitting processes for both storage and PV systems – facilitating accelerated growth of grid-scale and distributed energy storage projects.
So far, Europe's demand lags behind that of China and the US, the energy storage superpowers, as its grid-scale storage market has yet to find its footing. The distributed storage segment continues to dominate – but dramatic renewable supply growth, gas supply tightness and overburdened interconnectors can kickstart the region's grid-scale market in the next decade.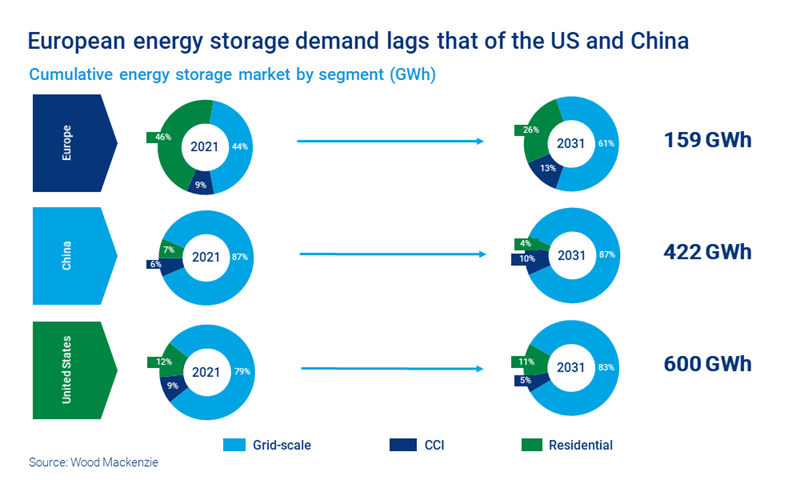 China continues to dominate the Asia Pacific forecast
China leads the Asia Pacific energy storage market, and is a pace-setter for global growth. However, the profitability of storage projects in the region remains a challenge to sustainable development. National policies are focusing on how to improve the compensation for energy storage costs and enhance the economic incentives of projects.
Government policy support is having an impact. China's Fourteenth Five-Year New Energy Storage Development Implementation Plan – released in March 2022 – reiterated the central importance of energy storage in its decarbonisation plans. The plan proposes that by 2025 energy storage will enter the large-scale development stage, with system costs falling by more than 30% through improved technology performance.
Since the plan was released, 12 provinces and cities have announced 2025 cumulative energy storage deployment targets, totaling around 40GW.
Want a closer look at the outlook for the Americas, Asia Pacific, Europe, the Middle East, Africa, Russia and Caspian? Visit the store to access our latest Global energy storage market outlook update in full.